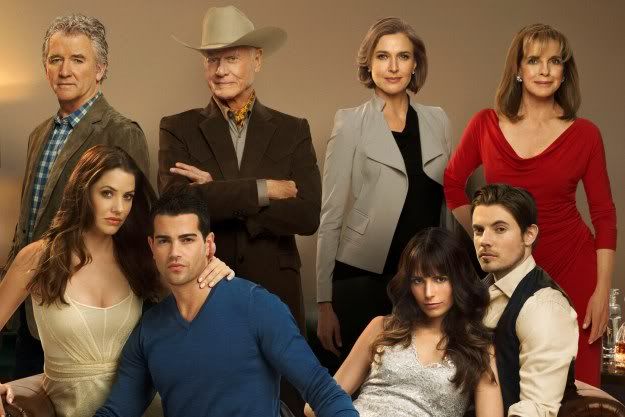 TNT's 'Dallas' revival picks up where original landmark prime-time soap left off
June 11, 2012, 10:29 a.m. CDT
McClatchy/Tribune - MCT Information Services
Given all the cowboys and 10-gallon hats, it's natural to go for the cheap play on words and describe TNT's new "Dallas" as a reboot.
Not so, TNT says, calling the 10-episode series "a continuation" of the original "Dallas," which made its debut in 1978 and stayed in the saddle for 13 seasons and 357 episodes.
After "Dallas" ended its run in 1991 with J.R. Ewing (Larry Hagman) contemplating suicide, two reunion movies (in 1996 and 1998) made it clear that he survived and never stopped scheming to get Southfork Ranch back from brother Bobby (Patrick Duffy).
As the new "Dallas" opens, though, J.R. is out of commission, suffering from what's called clinical depression, a sad old man unable even to respond when Bobby visits. As for Bobby, in the opening moments, he gets very bad news from his doctor.
No matter. This "Dallas" is really about the Ewing boys, John Ross (Josh Henderson) and Christopher (Jesse Metcalfe).
Christopher is working in alternative energy, sure he has a way to retrieve frozen methane from the world's coastlines. Bobby, whose mother, Miss Ellie, handed him control of the ranch, applauds this idea. After all, he promised Mama nobody would ever drill for oil on Southfork.
Meanwhile, John Ross has a scheme of his own: drilling for oil on Southfork. He's abetted by his girlfriend, Elena (Jordana Brewster), the family cook's daughter. Elena used to be engaged to Christopher, but now he's marrying a sweet girl named Rebecca (Julie Gonzalo) who seemingly has no dark secrets.
Conflict, needless to say, ensues, and that's just what Bobby hoped wouldn't happen.
"All those fights, J.R., over Ewing Oil and Southfork," he muses to his seemingly catatonic brother. "Those fights changed me in a way I don't like."
He hopes Christopher and John Ross can be family without all the bitterness: "I don't want them to be like us."
As if. The boys are very much their fathers' sons, Christopher too mild-mannered and sensitive for his own good and John Ross cruelly ruthless.
"Bobby's not your dad," he hurls at Christopher during one argument. "Everybody knows your daddy gave you away when you were a little baby. You'll never be a Ewing."
Exchanges like that will make fans of the original "Dallas" — who remember when Bobby and wife Pam adopted Christopher — very happy. (Ah, Pam. She, and Victoria Principal, remain MIA, but Bobby has a loving new wife, Ann, played by Brenda Strong.)
In fact, for the "Dallas" faithful, there's little to dislike here. From theme music to titles to tone, the new show is virtually identical to the original, which started a boom in prime-time soap operas that included "Dynasty," "Knots Landing" and "Falcon Crest."
But TV has changed a lot since 1991. Prime-time soaps died out, and the ranks of daytime soaps have thinned. While "Desperate Housewives" had a long run and "Revenge" is a new hit, some viewers remain reluctant to start watching serialized drama at all because they are afraid the show will be canceled with no resolution.
TNT has wisely scheduled "Dallas" for 10 episodes, all completed before the premiere. More could be ordered, but at least the audience can be assured of one complete story arc.
———
DALLAS
9 p.m. EDT Wednesday
TNT
More info: tntdrama.com/dallas